Case Study: Bethesda Softworks
[
]
Bethesda Softworks is an American games development and publishing company, based in Maryland, USA. The company was established in 1985 in Bethesda, Maryland by Christopher Weaver, originally as the "entertainment software division" of Media Technology Limited, an international engineering research and development firm (specializing in computer simulation and user interface design) of which Christopher Weaver was CEO[1]. In 1999, Christopher Weaver founded ZeniMax Media Inc. alongside Robert Altman to serve as a parent company in order to allow Bethesda to expand beyond the development of PC games and into cross-platform media[2].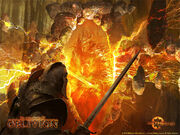 Bethesda are one of the last surviving private software publishers/developers of the 1980s era. Despite having a long history of development across many genres, Bethesda are best known for their award-winning[3] and commercially successful[4] Elder Scrolls series of titles, which includes The Elder Scrolls: Arena, The Elder Scrolls II: Daggerfall, The Elder Scrolls III: Morrowind, and most recently The Elder Scrolls IV: Oblivion. In 2004, Bethesda aquired the Fallout franchise from Interplay[5][6], releasing the critically-acclaimed sequel Fallout 3 in 2008[7]. Bethesda have also been responsible for publishing several games based on film franchises, such as Pirates of the Carribean, Star Trek and Terminator[8].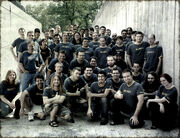 Whilst Bethesda Softworks is responsible for publishing games developed by its own in-house development studio, Bethesda Game Studios, they are also responsible for publishing games developed by external developers. Since the acquisition of id Software in late 2009 by ZeniMax Media Inc.[9], Bethesda Softwork's parent company, Bethesda Softworks will be publishing several upcoming games in development by id Software, including Doom 4 and RAGE[10] (which was previously due to be published by Electronic Arts[11]).
External developers whose titles have been published by Bethesda Softworks include Mythos Games (Magic & Mayhem, 1999[12]), Climax Studios (Magic & Mayhem 2: The Art of Magic, 2001), Headfirst Productions (Call of Cthulhu: Dark Corners of the Earth, 2005[13]), and Artificial Mind and Movement /A2M (WET, 2009[14]).
In addition to publishing and development, Bethesda make use of their own in-house quality assurance testers; however, they often outsource testing to third-party test houses, such as Babel Media, who were responsible for localization testing for The Elder Scrolls IV: Oblivion and Fallout 3[15].
References
[
]